'Tis I, once again, Moms and Dads, bringing you yet another baby food recipe that involves Snow White and Cinderella. This time using the Beaba Babycook Food Processor to make baby puree and baby food safely and conveniently in your own home and with your own natural ingredients!
If you want to read the review on Thinkbaby.org of the baby food maker I am using, Angela has written all about it here: Beaba Babycook – Sorbet.
I've got creative today (it never happens, so enjoy it!) and decided to do a little rhyme. Maybe you will remember it and sing it along to your baby as you feed them 🙂
An apple a day keeps a doctor away, they said.
Rightfully so, my good friend!
Since apples are incredibly rich in Vitamin C
and a handful more vitamins and minerals to give to thee.
See, apples help a person stay alert and awake.
It is a great snack than munching on a cake.
Pumpkins, however, should not be left behind.
Though used as a Halloween ornament, its benefits will treat your baby kind.
Rich in Vitamin A, it promises thee.
That Vitamin A, that helps the eyes clearly see.
So many dishes and treats it can do.
Eat plenty of it, it's good for you!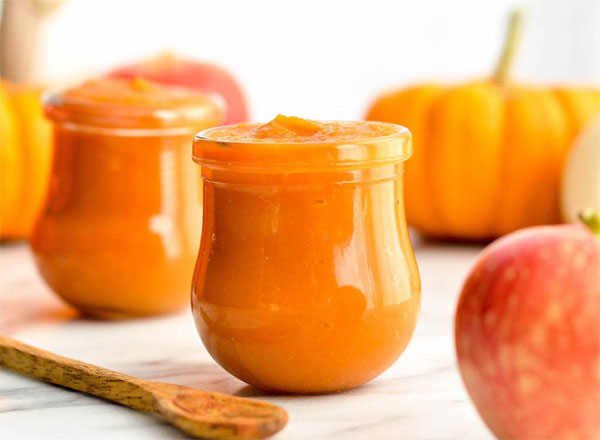 In addition to this recipe, which is undeniably healthy for your baby, we'll be including oatmeal. Since it is made of wheat, it is rich in good carbohydrates, omega 3 (good for the heart) and is really rich in fiber to aid with healthy digestion and elimination. If you are after more super delicious apple recipes make sure to check out these 13 Irresistible Apple Recipes.
With the reasons stated above, that made me produce my own baby food. It's just hard to trust 'safe' food products nowadays because anything that's stored in the shelves are filled with preservatives to prevent spoilage and my baby is far too young to be exposed to such chemicals. Rather than constantly worrying about the foreign ingredients placed in baby products, I decided to make my own by buying a Beaba Babycook and making my own baby food quickly and easily . It's healthy and it doesn't cost much as baby food in jars!
I'm not going hold you off much longer. On to the recipe to make your own apple pumpkin puree!
Ingredients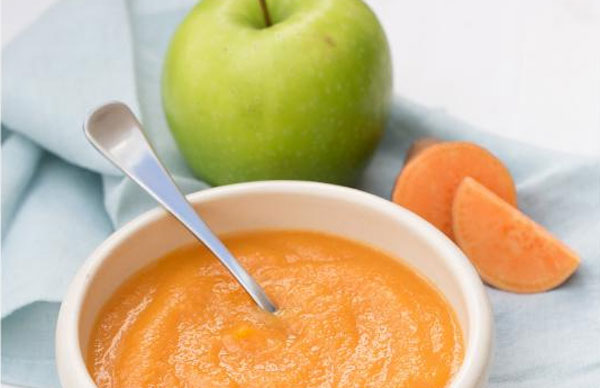 1/2 cup applesauce
1/2 cup pumpkin puree
1 1/2 cup (cooked) oatmeal
Dash of cinnamon, nutmeg and/or ginger
Directions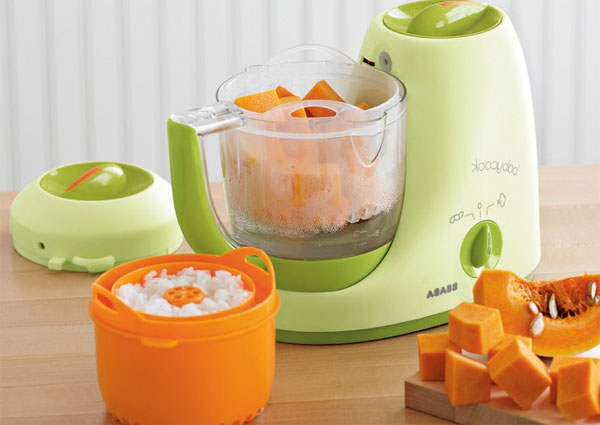 Mix spices, applesauce, pumpkin puree and oatmeal together
Stir thoroughly/blend very well using the Beaba Babycook
That's it, nothing more to do and the only thing you need to clean is your Beaba Babycook. That means not extra washing up anything else that you would use without it.
My baby liked this meal very much and I am in no doubt your baby will enjoy this healthily delicious baby food as well!
For more of Our Baby Food Recipes, Check Out:
For more information, visit Onenerdymomma.com and be sure to check out her blog post about Homemade Baby Food for all the information you need and why you should be making homemade baby food instead of buying store bought puree. Not only this, but Mallory blogs about really awesome blogger than also contributes to the Motherhood community.