Mini cribs take lesser space and that's one of the cardinal reasons I prefer them. They are big enough for your baby to be easily accommodated, yet dainty enough to be placed pretty much anywhere you desire or picked up and moved with ease. Either way, if you have a smaller home or prefer to live more of a minimalistic life, mini cribs are becoming more popular.
What I'll discuss today, are 1) which smaller sized cribs are recommended by parents 2) which crib mattress you need to fit mini cribs 3) which sheets you need for a snug fit.
Most often than not, they can be easily folded and stored aswell. Put it this way, babies need so much when they first arrive in this world, why not cut down the cost and space required for everything, by opting for a smaller-sized crib.
Before you buy one,
What makes for a good one?
Does it meet worldwide safety standards and regulations?
How do you get the best value for your money?
Does it come with other features that are handy in a crib?
Is it convertible?
What materials are used? Are they child safe?
What else may you need?
I have hand-picked some of the best mini cribs that you will ever find. These are going to assist you in your hunt for a cozy place for your baby to have the most beautiful nap time.
But, before we get into the mini cribs to consider, let's discuss why you will need one and some advice I have in relation to buying a safe crib for your baby.
Why Should You Read On? Because we don't get paid to promote.  At ThinkBaby is all about providing REAL, TRIED AND TESTED facts about the products WE USE EVERYDAY. We call this 'Insider Parent Info'. ABSOLUTELY NONE of the baby products we talk about at ThinkBaby.org are sponsored or promoted by the brand.
Mini Cribs vs Cribs
Size does matter.
 And I am saying this with experience.
My friend has a huge baby crib that does look good, but, she has been complaining about portability issues. She had recently moved it to a new apartment in the city and she kept ranting about how difficult it was to move that entire crib around. It doesn't have any casters either….
When I filled her in about the alternative of going for a smaller crib (or alternatively a co sleeper crib initially) that we have nowadays in the form of mini cribs, she couldn't believe me. She opened her eyes to a new idea and this is what I am to do today….
They are also very adorable to look at given the small quaint design they carry. Assembling a mini crib takes lesser time than a traditional crib. You can even move it around without being subjugated by cramps.
However, it's entirely your choice if you would rather go for bigger baby cribs than opt for mini cribs. In case you do, you can check out: What Cribs Parents Prefer Here.
Things to Remember & My Advice
Save space, save time, save energy, save money. Go for a mini crib!
You need to pay attention to the edges and the finishing. You don't want your baby hurting itself accidentally. Trust brands that have built their name and fame in the industry. Reading experiences such as mine, are the real essence to getting a good quality product. This is the advice I relied on and are sharing with you. The most valuable advice when you are a new parent with a new baby is that from others.
Remember, these brands featured here, have been manufacturing normal convertible baby cribs and these mini cribs for so long that that they have gradually built their trust. All of the below have been meticulously chosen since they are the best out there, don't risk your child's health, safety or sleep for that matter, it's the most important thing all else.
Safest Mini Cribs
1 ♥ Popular
---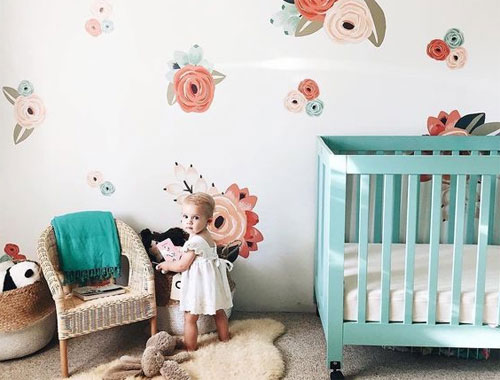 ---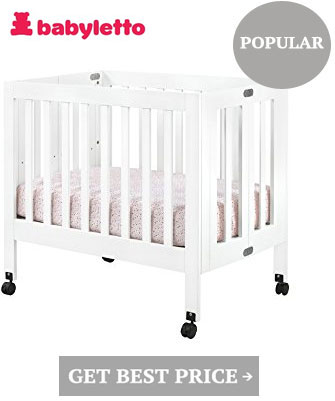 Available in 4 Colors
Easy to Roll
Easy to Fold
Easy to Store
Age & Weight Restriction: Yes (See Below)
Generally you don't see a crib with wheels, and this one right here comes with wheels AND is one of the most popular this year!
It also has one of the most generous weight restrictions which is almost double than the crib below so, the price is justified as it will outlast other smaller cribs. However, as this one is priced at around $200, look at #2 below which is around the $100 price mark.
But don't worry, it's made to all safety regulations so its 110% safe for your baby to sleep in. This babyletto origami mini crib has casters attached underneath so that you could move it around whenever you want with ease.
It's a mini crib on wheels for your child to enjoy different areas of your house. These casters lock so there isn't any issue of the crib moving without your consent. You can remove the wheels as well if you want it to remain stationary.
Talk about a complete game changer! It is one of the simplest and modern designs out there, and yet it looks completely contemporary and chic.

Features
Made with Sustainable New Zealand Pine Wood
Warranty: View Here
Age Restriction: Newborn to 18 Months
Weight Restriction: Up to 50 Pounds
Important
Lead Free
Phthalate Free
Non-Toxic Finish
Carb II Compliant
Meets ASTM International
US CPSC Safety Standards

View Instruction Manual Here
1 Year Warranty
What's Included & What Else You Need
Included: Mattress Pad
Not Included: Mattress and Sheets to Fit this Crib (See Below)
Price: $269 – $299 View Latest Price Here
2 ♥ Value for Money
---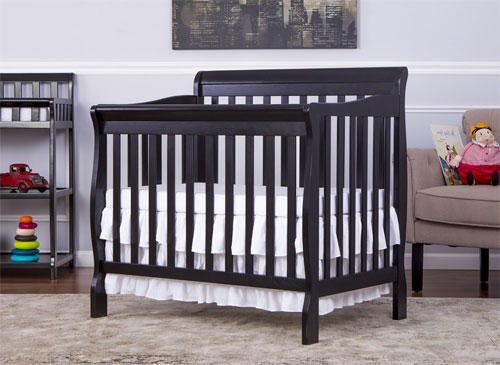 ---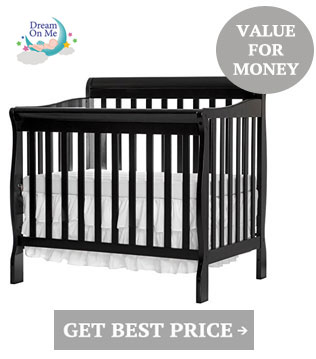 Available in 7 Colors
'Lifetime' Piece of Furniture
4 In 1
Excellent Value for Money (Check Price)
Age & Weight Restriction: Yes (See Below)
This is a standard mini crib with exquisite finishing and excellent value for money. There are no rough edges whatsoever. Even though it doesn't have wheels like the one above, don't get put off – its  portable enough to be moved and can be placed in any corner of the room.
It's not only excellent value for money when it comes to small cribs, but it is a lifetime piece of furniture – it converts into a day bed and full sized bed.
Assembling it doesn't even take time and it simply looks, stunning. There are seven color options that you can choose between.
One of my friends has gone for this black one, and it fits right in with her baby room's décor and as you can see in the pictures, it's absolutely delightful to look at.
There are soft curves around the rails which is comforting to your hands. You get three mattress levels to adjust this based on the growth of your child, so safety's guaranteed. You can turn this into a twin bed anytime.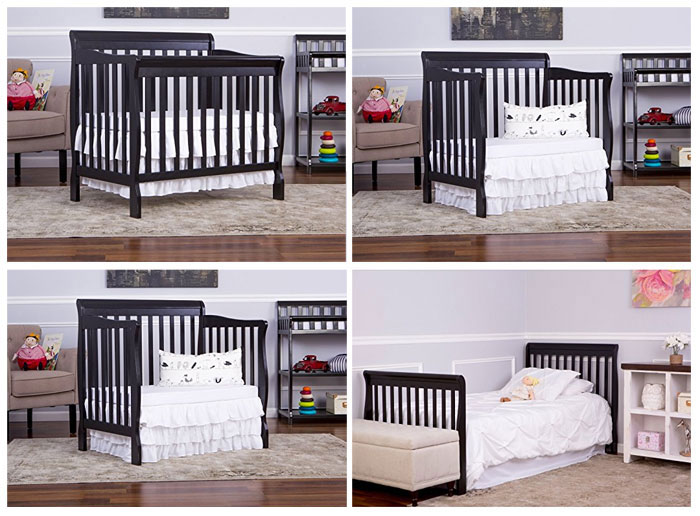 Features
3 Position Mattress Support
Solid Pine Wood Finish
Warranty: View Here
Age Restriction: Newborn to 18 Months
Weight Restriction: 6 Pounds to 25 Pounds
Important
Phthalates Free
Latex Free
Lead Free
BPA Free
Meets CPSC Standards
Meets ASTM Standards
Exceeds Government Standards
What's Included & What Else You Need
Included: Tools For Assembly & Manual
Not Included: Bed frame, Bedding, Mattress & Conversion Kits Not included (See Below)
Price: $129.99 – $149.99 View Latest Price Here
For A Cheap Mini Crib at Under $100, Check This One Out HERE FOR ONLY $99.99
3 ♥ Small Round Crib
---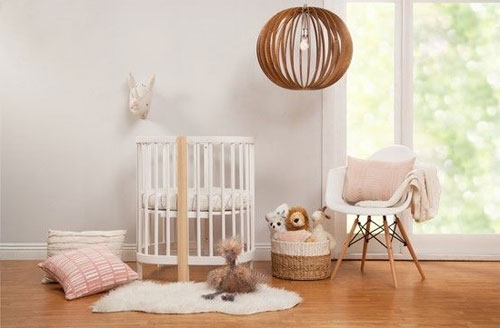 ---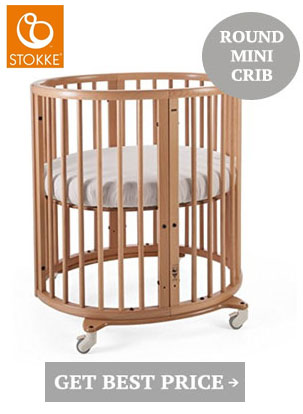 Available in 3 Colors
Top Quality
Unique Design
Excellent Age Usability (See Below)
No Weight Restriction (See Below)
If there is a perfect safe haven for your baby, it is inside this beautiful mini crib. This is one of the sturdiest things doing the rounds today. Yes, at over $500, this is a big jump in your budget, but here you are investing in a piece of furniture that will last about 10 years. It doesn't just serve as a mini crib.
It is versatile and can be adjusted for a newborn, baby, toddler and for kids between 3 to 10 years as well. With its unique oval shape it creates a nest around your baby providing you access from all sides. With its shape your baby can get maximum air circulation.
There are swivel wheels provided which makes transporting it to any room easy. It looks pretty fancy when it converts into different shapes.
It is literally made for comfort. Only if you could turn into a baby, you would know. Have an enjoyable parent-baby meeting anytime of the day.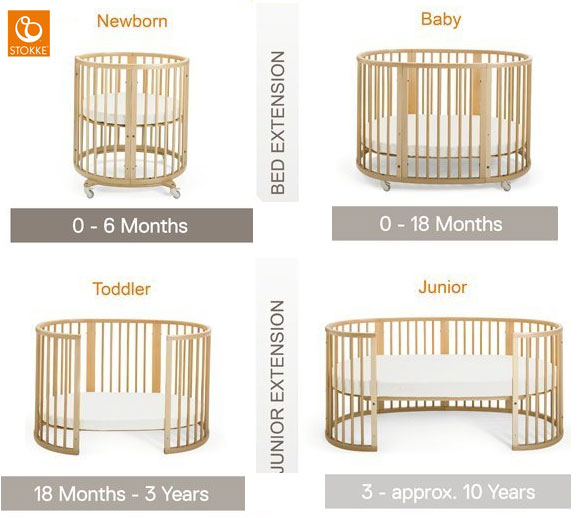 Features
Maximum Air Circulation
Swivel Ability
Lockable Wheels
Converts Into 4 Pieces of Furniture
Height Adjustable
Warranty: View Here
Age Restriction: Newborn – 10 Years
Weight Restriction: N/A
What's Included & What Else You Need
Included: Mini Crib Frame
Not Included: Extensions, Mattress, Canopy & Canopy Rod (See Below)
Price: $599 – $699 View Latest Price Here
4 ♥ Mini Crib With Change Table
---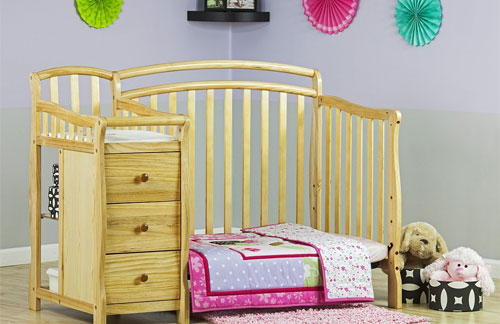 ---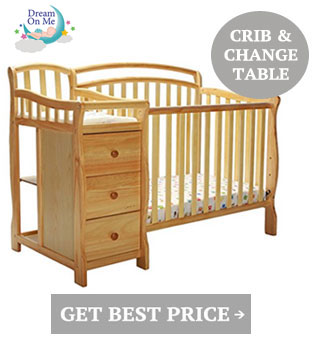 Available in 5 Colors
Great Value
Matching Change Table
What if I tell you that you could avail the benefit of a change table along with buying a mini crib all for under $150? Yes this Dream on Me crib has played thoughtful on many occasions before. This product is a paragon of such intelligence.
What do you hope could come in handy when you are busy tucking your baby to sleep?
A change table with drawers when things go wild and out of hand. Yes! It has three drawers to assist you with baby clothes and accessories. There's a table atop where you could change diapers without spoiling the mini crib.
Features
Converts a Daybed and Twin Size Bed
Solid Pine Wood Finish
Lead Free
3 Position Mattress Support System
Age Restriction: Newborn to 18 Months
Weight Restriction: Up to 50 Pounds
Important
Meets ASTM Standards
Meets CPSC Standards
Meets Government Standards
What's Included & What Else You Need
Included: Tools for Assembly
Not Included: Mattress and Twin Size Rail Sold Separately (See Below)

Price: $ – $ View Latest Price Here
To add to that there are shelves provided to keep some baby toys that you might need to soothe your baby to sleep.
5 ♥ Rocking Mini Crib
---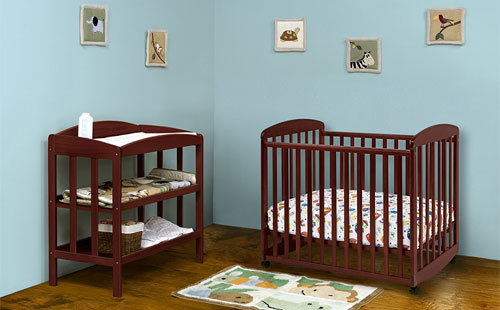 ---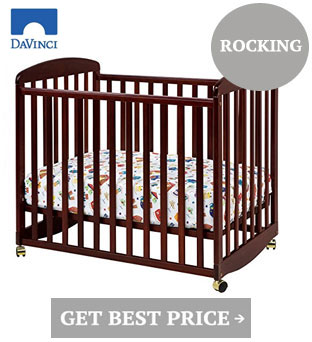 Available in 4 Colors
Cheap
Only Mini Crib With Rocking Functionality
This is one of those amazing ideas that innovators of baby products came up with. What if your mini crib allowed you to soothe your baby to sleep?
Isn't it, I don't know, less work? Yes, this DaVinci Alpha mini crib has what it takes to be the next generation mini crib innovation. The mini crib comes with casters too so transporting it around the house is a piece of cake.
At only around $100, you are getting a great sized mini crib, that when the wheels are taken off, you can use it to rock your baby to sleep. With over 25 years of experience manufacturing baby products, this brand understands its customers and what they need.
You just have to remove the wheels, adjust it to its base, and voila you have got yourself a rocker. It acts like a cradle when you rock it. Don't worry it can come to a sturdy standstill whenever you want as rocking can stop easily too.
Features
Made of Sustainable New Zealand Pine Wood
Non Toxic Paint Finish
Four adjustable mattress positions
Attachable/Detachable Wheels
Warranty: View Here
Age Restriction: Newborn to 18 Months
Weight Restriction: Up to 50 Pounds
Important
CARB II Compliant
Meets U.S. CPSC safety Standards
Meets ASTM International Standards

Lead Free
Phthalate Free
What's Included & What Else You Need
Included: Waterproof Pad (1 inch depth)
Not Included: Mattress & Sheets (See Below)
Price: $104.99 – $124.99 View Latest Price Here
〈 Extra 〉 High End, Brand Name Mini Cribs
---
Below is a range of high end, brand name, expensive mini cribs that are new and modern.
• Available in 3 Colors, $350 -$450, Amazon.com
Mini Crib Mattress
---
Of course buying a mini crib won't solve all your problems. You also need a mini crib mattress that is the perfect fit and don't forget the essential crib sheet to go with the mattress.
Ultimately, what you need is a hypoallergenic soft and plush mini crib mattress, and that is exactly what these ones offer. It is the most comfortable mini crib mattress out there. Your baby's going to have a gala time sleeping.
Mini Crib Sheets
---
American Baby Company makes the best baby sheets ever! They are quite warm and smooth to touch. They don't harm your baby's delicate skin.
♥ Most Popular Articles ♥
Safest Mini Cribs For Small Spaces