Moses baskets are the best. I personally feel they are the perfect fit for newborn babies. They are even shaped like them, cute and cuddly (just like bassinets are).
But why do I absolutely love them and recommend them?
Read on to find out why…
For newborn babies, moses basket is next to a boon. It is highly recommended that your baby stays with you in your bedroom at all times during the first six months. The fact that they sleep for most part of the day demands you buy something cosy for their regular sleep routine.
But you can't always be in the bedroom to keep an eye on them. You need something with a handle to carry the baby in whichever room you are. All of these qualities come by default in a Moses Basket. It is small enough and shaped perfectly so you could fit it in your bedroom, on the dining table while you are doing the dishes or keep it alongside you on the sofa. With strong handles you can easily take it from one room to another. That way you can have your peace of mind by not constantly worrying about how the baby is sleeping in another room.
Commonly, a lot of parents, when looking for the appropriate furniture for their newborn or infant, either choose between a co sleeper bassinet, a bedside bassinet or a mini convertable crib. But moses baskets are especially exceptionally. Read on to find out why…
Not only are they a beautiful purchase and purposeful, allowing you to have optimum mobility and carry your baby pretty much anywhere when they sleep, Moses Baskets are actually beneficial for your baby's development.
On a Moses Basket, your baby can lay out flat without any sort of pressure on the head. The flat position assists with the development of their spine (Source: izziwotnot). There is ample space for them to stretch out straight. They also don't take much space, creates a snug sleeping environment for the baby like a semi-womb, thus assisting with the transition. You can even put it on the floor or keep it on a stand. Some of them come with a canopy hood that help in keeping the sun out of their eyes.
They act as a perfect protector for your newborn when they are out in the open, vulnerable to life's countless treacheries. They are easy to carry around, perfectly built to tuck babies to sleep. You can limit their movement, and curtail the chances of accidents using its strong edges.
One of the main reasons why I love moses baskets for my baby is that even when they grow out of it, its a purchase that is multi-functional. Once your baby grows out of it and you think it's no longer needed, it is! You can use it to store toys, linens or anything you want!
As a mother of a newborn I can't tell you how much I loved having a Moses basket around. It makes the job of being parent so much easier, I can't even begin to tell you. There are different types of Moses baskets available nowadays, and really good brands too. I have chosen some of the amazing ones that I found on the internet. Make sure you check them all.
So in summary, these are why I love them and so do many parents!
Affordable
Safe For Your Baby
Small & Snug
Easy to Carry
Can be Placed Anywhere
Great way to Monitor Your Baby 24/7
Helps with Development of Baby Spine
Why Should You Read On? Because we don't get paid to promote. At ThinkBaby is all about providing REAL, TRIED AND TESTED facts about the products WE USE EVERYDAY. We call this 'Insider Parent Info'. ABSOLUTELY NONE of the baby products we talk about at ThinkBaby.org are sponsored or promoted by a brand.
Related Articles:
1 ♥ Most Popular
---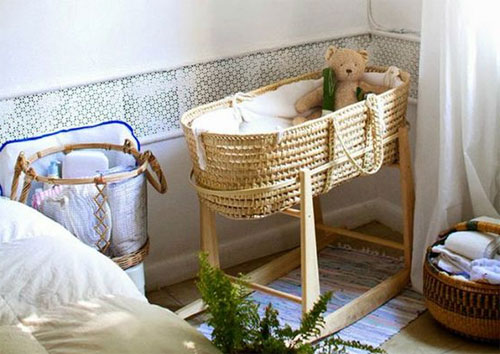 ---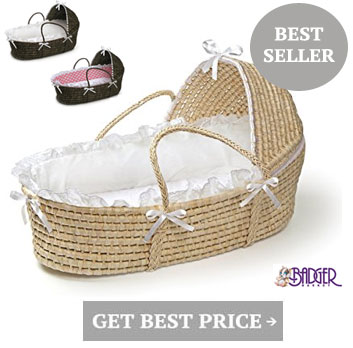 COMPLETE SET! (See Inclusions Below)
3 Colors/Designs To Choose From
Removable Hood
Made in USA
Weight Restriction? Yes (See Below)
Measures: 30″ L x 17″ W x 18″ H
Basket Depth: 6 Inches
My personal favorite! This Badger Basket with Hood and Bedding Set is the mother of all Moses Baskets. This was in fact the intended design made years ago. Didn't it serve the purpose right coz so many babies grew up into strong men and women?
This is simply an affordable moses basket, everything in one set all for $50 (Get Latest Price Here). Of course, you aren't getting top quality here but they, if you want it to last a few months, you've got it with this one. It's just not a long term buy, like #3 below which is the 'top quality option' or you can get an all natural basket which is the cheapest, all for around $30-$40 (Get Latest Price Here) (#4 on this list).
I prefer my Moses Basket with a hood since it provides protection to my baby's head, one of the most delicate baby parts. Of course, you can get rid of the hood as it is removable and attaches easily with velcro. You get a two handles, so if you wish to move the baby somewhere you can easily do so.
Pad, sheet and liner are included in this entire Badger Basket unit and it's safe for newborns up to 15 pounds (6.8kg).
The basket and mattress pad are manufactured and comply with all applicable ASTM safety standards and the mattress is maximum thickness for ultimate sleeping comfort.
What's Included & What Else You Need
Included: Moses Basket, Removable Hood, Moses Mattress Pad, Liner and 1 Sheet
Not Included: Extra Sheets are Needed & Sold Separately (See Below for Sheets that fit this basket!)
Optional: Stand (See Below)
Price Range: $40 – $60 View Latest Price Here
2 ♥ Padded Moses Basket
---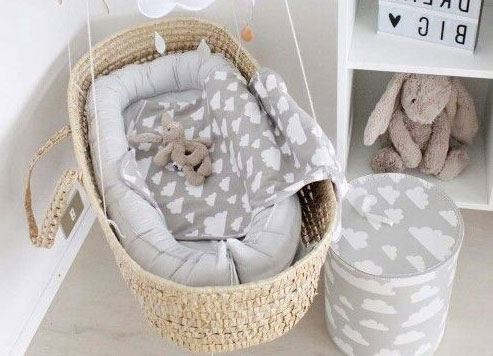 ---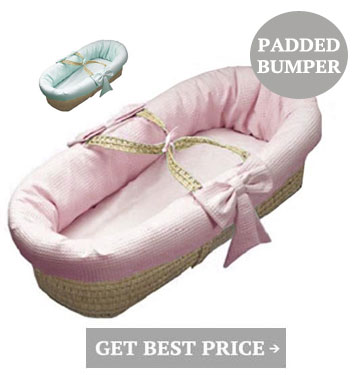 Complete Set (See Below for Inclusions)
Better Quality Than #1
Convenient Handles
2 Colors To Choose From
Cute Bows
Measures: 11″W x 29″L x 8″D
Machine Washable

Made in the USA

Here's a perfectly customized one for you. Available in two different colors namely pink and blue which you can select based on whether you have a baby girl or a boy, this is the wicker moses basket which is a popular purchase due to the enhanced thickened bumper.
This one is different to the one above for two reasons, it retails at around $100 (Get Latest Price Here) as it's made with a little extra care and 2) it doesn't come with a removable hood.
However, with this basket, it's still made of imitation wicker. If you want a 100% naturally made moses basket, refer to #4 below which costs only about $30-$40 (Get latest price here).
The insides of this Baby Doll Bedding Moses Basket are made up of 100% cotton which is safe for your baby's skin. If you buy this you get the whole set which includes basket, mattress, bumper and fitted sheet. The groove in the middle is perfect allowing your baby to settle in comfortably. With cotton warmth inside the basket becomes amplified. The bumper has a beautiful bow on each side that help in beautifying the basket further.
Please note that this one is imitation wicker, hence why it's only around $100.
What's Included & What Else You Need
Included: Basket, Mattress, Bumper & Fitted Sheet
Not Included: Extra Sheets are Needed & Sold Separately (See Below for Sheets that fit this basket!)
Optional: Stand (See Below)
Price Range: $90 – $110 View Latest Price Here
3 ♥ Quality
---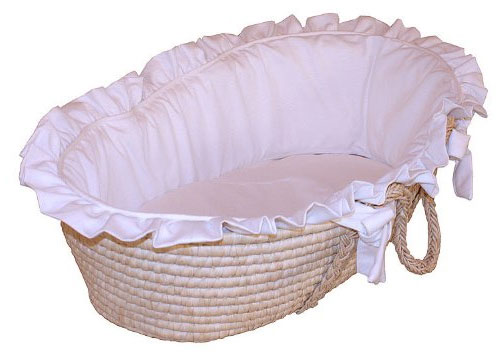 ---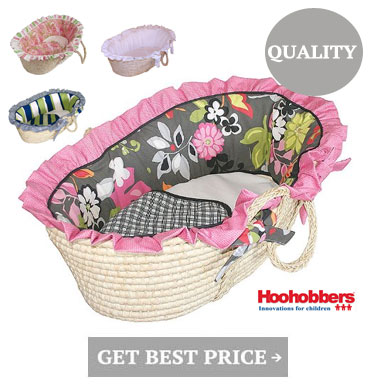 Quality Designer Fabrics
Complete Set
4 Designs/Colors To Choose From
Unique duvet bumpers
Removable Bumper Padding
Machine Washable
Measures 32 x 20 x 11 inches
If you wish to go for a tad different design here's one wonderful Hoohobbers Moses Basket ruffled up one for you. The pique on the edges makes for a delightful style offering the basket a stylish look and feel.
This moses basket is the most expensive on the list as it retails for around $155 (Get Latest Price Here). For the cheapest option you can opt for #4 below at only $33 (Get Latest Price Here).
The linen used here is of the highest quality. No matter how many washes the bumper padding is going to take, it is still going to retain its crisp and original charm.
If you are going to buy this basket, you are going to get bumpers, sheet, and a flannel lined comfortable blankie. Moving it around is made possible with sturdy handles on each side. The bedding comes straight from heaven, so soft and seamless to touch. Your child is going to enjoy its time on this bed.
What's Included & What Else You Need
Included: Basket, Bumpers, Sheet and Flannel Lined Receiving Blanket
Not Included: Extra Sheets are Needed & Sold Separately (See Below for Sheets that fit this basket!)
Optional: Stand (See Below)
Price Range: $150 – $200 View Latest Price Here
4 ♥ Natural
---

---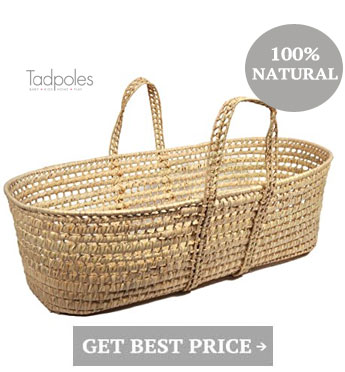 Handmade in Morocco
100% All Natural
Made from woven palm leaves
Measures 33 x 10 x 15 inches
This one right here just screams of VALUE!
All for around $30-$40, you are getting a simple moses basket that is made of 100% natural materials! Really, it's just an amazing deal. Of course, you are going to have to buy additional accessories, which the products above include in their price, but they, at least you can choose which products you wish to buy.
This Tadpoles All Natural Basket is made up of hand woven palm leaf. Organic moses baskets are the most reliable ones because you know for sure that there is nothing that could possibly harm your baby.
t is the healthiest and the safest in the long range of products. It smells organic too and not chemical like other cheap ones can. Since this doesn't come with bedding you can choose to fill it up with mattress, sheet and padding of your or your baby's preference (see below for the best options!). Experiment with it and then see what feels right. It appears to be quite delicate and thin but is quite strong, au contraire, to its looks.
What's Included & What Else You Need
Included: Only the Basket
Not Included: Mattress, Liner, Bumper & Sheets are Needed & Sold Separately (See Below for Sheets that fit this basket!)
Optional: Stand (See Below)
Price Range: $33.99 – $49.99 View Latest Price Here
〈 EXTRA 〉 Mattress & Sheets
---
Baby Prem Moses Basket Mattress: So if you don't get a mattress included in your basket (like #4) or you have already bought your basket and need to replace the mattress, you can opt for having this beautiful and useful moses basket mattress. It is a round ended mattress available with a standard or quilted cover. It fits in all standard size moses baskets and bassinets. It is good value for money too at under $20 (Get Latest Price Here)!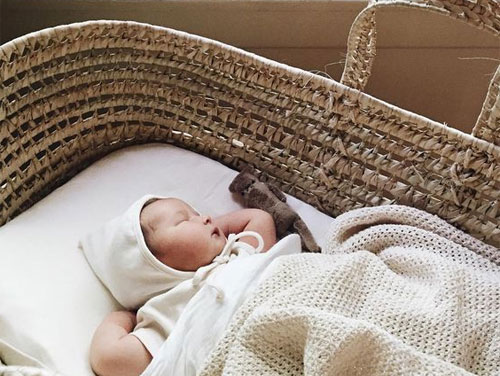 • Available in 3 Colors, from Amazon.com
Now moving on to sheets, you need to look for comfortable machine washable sheets to truly complete your moses basket set up. You can opt for these best selling and most reliable sheets for your bub.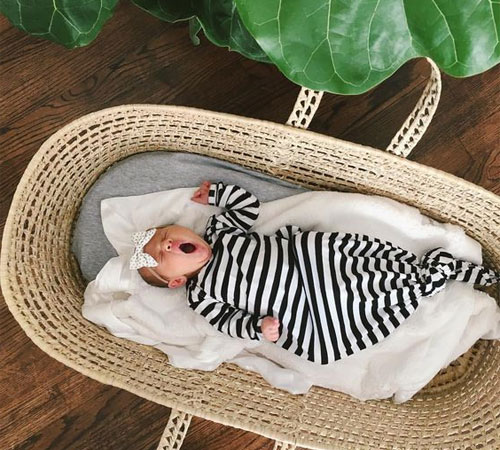 • Best Moses Basket Sheets (Available in 7 Colors), from Amazon.com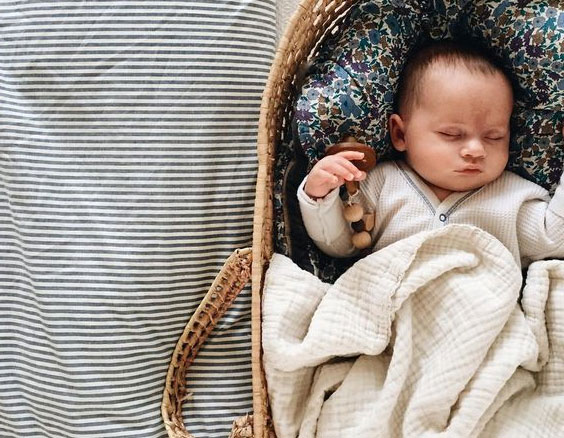 • $12.99 -$14.99, from Amazon.com
The second recommend sheets offer a pack of 2 fitted moses basket sheets. They are made up of cotton and are perfectly safe for your child to sleep on. They fit all kinds of Moses baskets including the aforementioned ones. You can also use them as backups since it is hard to judge poo-poo time of babies.
〈 EXTRA 〉 Moses Basket Bassinets
---
Did you know you could turn a moses basket into a bassinet without spending too much?
Plus, it's the new 'in' thing to do. I've included the matching moses basket stands with each product above, but if it's too late and you have already purchased your moses basket and want a simple stand, check out the universal and most popular ones below as there is a few different styles available.
Using a stand and converting your moses basket into a bassinet is a way that you can maintain the coolness of the moses basket, without having to spend a fortune on a new bassinet. With a simple tweak you can get the most out of a regular basket. It is pretty simple. All you need is a good rocker stand to bolster the basket on. It's as simply as that.
The first one, the Jolly Jumper Rocking Moses Stand, is an intelligently built rocking moses stand which is specially designed to give you a look and feel of a real bassinet. The good news is that you can take out the basket any time when you wish to sit with your baby out in the garden or a park. To soothe your baby to sleep all you have to do is place the moses basket on the the stand, and rock it a little. It will help the baby to lull into sleep in no time at all. It holds all standard sized moses baskets. It is a smart way at keeping two things at once without having to spend much.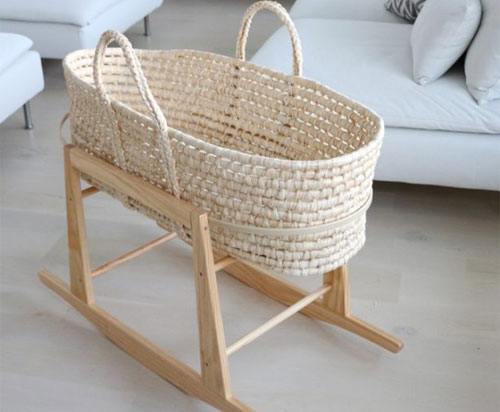 • Most Popular (Available in 3 Colors), from Amazon.com
This bassinet stand below is a folding one which comes in two different colors. It's a different design the the above one.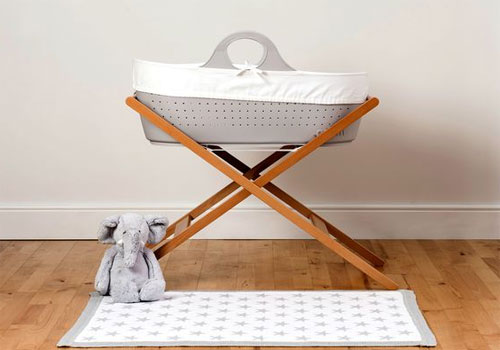 • Available in 3 Colors, from Amazon.com
The stand blow is a rocking stand which is especially made for moses baskets which is made with solid wood and contains no toxic paints or stains.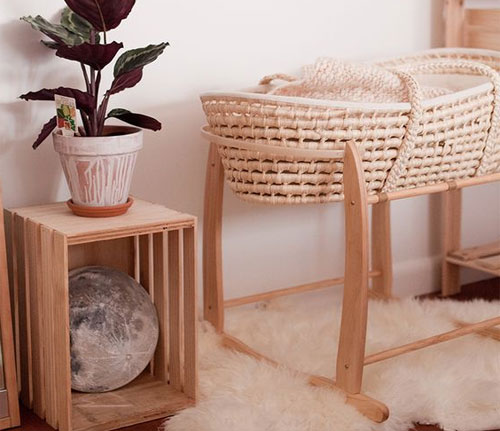 • Available in 8 Colors, from Amazon.com
Another popular choice is this one below which is a complete set. You can the moses basket, together with the stand for approximately $199 (Get Latest Price Here). It's a quality and sturdy product which has a slightly different design compared to the ones above.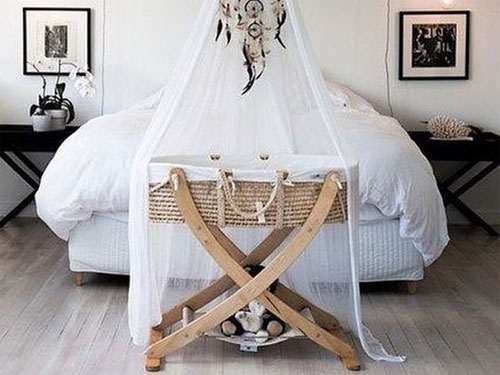 • Complete Set (Available in 7 Colors), from Amazon.com
♥ Most Popular Articles ♥
Safest Mini Cribs For Small Spaces