If you haven't read already, we have spoken about the Baby Brezza and how much we love it here at ThinkBaby many times before. Why? Because it's a machine that if, you have a baby or small children, this machine will save you a lot of time and energy aswell as a lot of tantrums and tears! Literally, it will make your own organic, homemade baby food all in one machine, there is nothing else you need to do, with very little mess!
We as parents often find ourselves pressed with time, especially those parents who have more than one child or for those of us that are working parents. If you have more than one child, you have to tend to the other child and vice versa so we find ourselves in the position of not doing things that are rather important because we can't find the time for it. One thing that really frustrates me is that I find myself so busy as a Mom, that even preparing my children's meals can really time consuming. It's frustrates me that I get frustrated even at the thought of preparing meals. I know I probably seem horrible, but I know other Mothers can relate. It's not the fact that I don't like cooking, I just get overwhelmed sometimes as a working mother and wife with all my responsibilities. This is the sole reason why I purchased the Baby Brezza One Step Food Maker – it made my life easier as a parent. As soon as I bought it, I found myself making my children's meals, not only quicker and easier, but a lot healthier. If it's something that you have been sitting on the fence buying, I recommend that you go ahead and buy it. If you are a busy Mom like me, you won't regret it at all.
As soon as you get this machine, it does absolutely everything for you. All you need to do is chuck the vegetables in and let it do the work (according to what you want meals you want to prepare for your baby). No need to wash up pots or pans, boil and mix using a blender. Once you put your ingredients inside, it will have baby food ready to consume! And to clean – just place in the dishwasher to wash it up for you! Now do you understand how this really makes you prepare baby food so easily?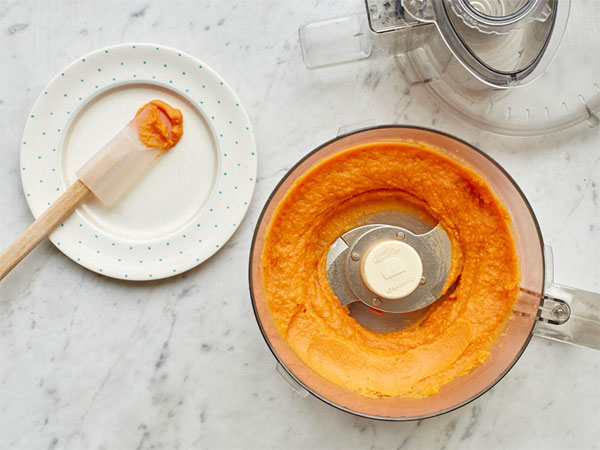 So if you are looking for an appliance with simplicity, convenience and none of the pain of high prices? Well, this Baby Brezza baby food maker might just be the thing for you.
Related Articles:
Best Features
Best Puree Maker
Steams, Blends & Steams & Blends in ONE GO!
Baby Food or Baby Puree Ready in as Little as 15 MINUTES!
Suitable for Vegetables, Fruit, Meat and even Fish!
Quickest Way to Make Baby Food or Baby Puree
Healthiest Way to Make Baby Food or Baby Puree
BPA Free
Phthalate free
Easy to Clean
Dishwasher Safe
Save Hundreds of $$ (Instead of buying store-bought baby puree)
Why I Love This Product
We live in a world where things are deemed 'user-friendly'. You know? In our computers, we want to do tasks in a few clicks and a few keyboard strokes; in our smartphones, we want to finish something with just a few taps. In our homes, we like our food to be just microwaved and our lighting within just a few claps…and none of that incredibly long and tedious manuals or books of instruction because a lot of us simply doesn't have the time to go over those. Quick and easy – that's the way it should be. So, that's where this baby food maker comes in for all us mothers. It makes baby food preparation quick, easy with none of the mess. In as little as 15 minutes! No pots or pans necessary. Just one machine, that, once it's done steaming and blending to make baby puree, you can place in the dishwasher to clean for you!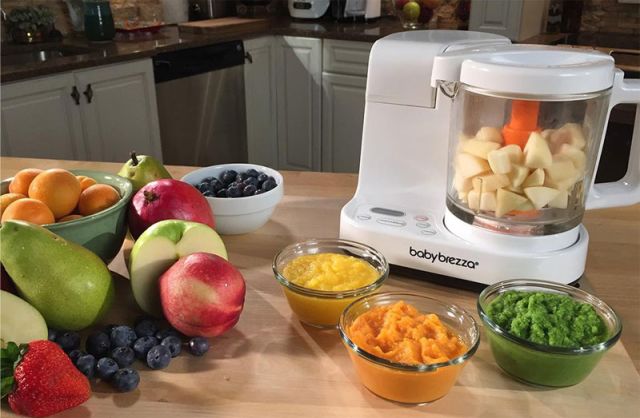 We're constantly busy with the happenings of our lives to the point that we pay other people to the simplest of tasks like cleaning, repairs or any other skilled services that we can do ourselves anyway but can't because of one thing: we do not have the time! And well, that's what this Baby Brezza baby food maker promises – that you and I save precious time in preparing baby food.
But not only that, it promotes you to prepare healthy and fresh baby food, in literally only a few minutes!
So, in what ways does this baby food prep machine help us save time, effort and money? This baby food machine is designed specifically for those that want it prepare child's food fast! Super fast! And Healthy! Super Healthy!
How to Use It
First off, you just plug it in, put your ingredients in (whatever you fancy, really, either you wanna mix in vegetables or fruits and hey, why not both? Be my guest! Whatever your baby likes, chuck it in!). Set the timer and this fine piece of machine will do ALL the work for you. Also, it is real easy to clean since it is just one bowl, which is also safe by the way. Like I said, quick, easy and none of the mess.
You can place anything you like in it. Whether it be vegetables or fruits to make baby puree, or meats and fish, it will take anything you feel like popping in.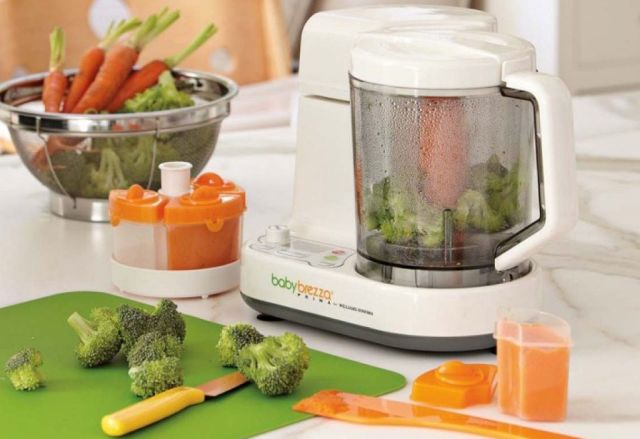 It has three functions. You can choose to steam only, blend only or do both!
Another thing I liked about this Baby Brezza baby food maker is that its exterior design is as simple as the way you operate it. Nothing overdone and nothing complicated, one of the best and easiest ways to prepare baby food. The buttons are easy to find and easy to press, nothing that locks too hard that you have to pull (which might and often leads to the product damage. Ugh. Who wants that anyway?) with all your strength and best and most of all, it is user-friendly. Isn't that incredible? I think it is!
Make and Store
Why not spend a Sunday afternoon making baby food in your new Baby Brezza and freeze it for future use. All you'll need to do is get the portions out of the freezer and serve them when they are needed 🙂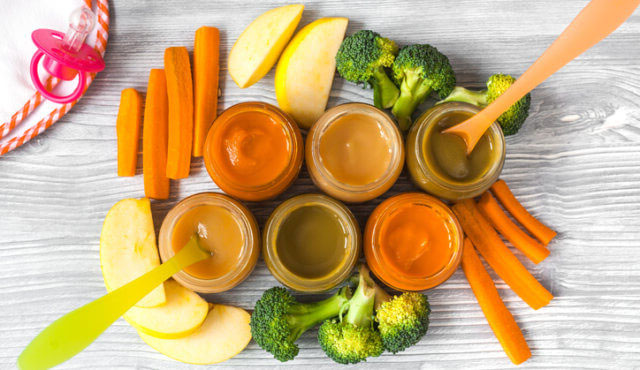 You really have to use the Baby Brezza to harvest its astonishing power to make your life a hell of a lot easier when it comes to making food for your baby and children. You should really consider getting yourself one and save time, money and effort right away!