"Run run run! I am going to catch you" , "where is my baby hiding? OH, I wonder where he could be?" – the words that can change your toddler's day. I just love playing with my children. It can really brighten not just their day, but yours as well.
Nothing can top your day more than seeing those happy faces. And even if you have to play the same game every day, it is worth it.
Even if you're sooo over the game…
Your child won't be.
The most beautiful thing you will ever see is that sparkle in your child's eye of pure happiness, that smile that takes all your worries away and that laughter that is probably the most beautiful sound you'll ever hear. It is important that toddlers play games to keep them busy and also to help them stimulate their brain during this age.
By playing with your toddler, they will learn to communicate and build relationships. Below I've listed some really awesome and fun games for toddlers aged 18 – 24 months. However, please note that we have only included some activities to do with your toddler during this age. We are always open to ideas, so if you have one, please let us know below!
Recommended Toddler Play at 18-24 Months
Hide & Seek/Peek-a-Boo
Let your toddler hide and you search for them, or vice versa. This is a great game for your child because he will learn how to locate you.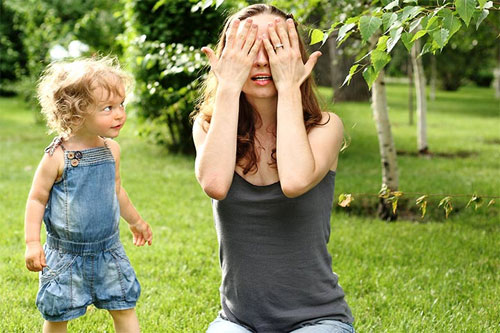 Catch Me
Catch is quite exhausting right? But toddlers just LOVE this game! Through this game they will get physical exercise and it will make your job a lot easier when they need to go to sleep 🙂 (wink wink)
Gardening
Don't forget to get your children into gardening from a young age. Not only will gardening in your own back yard, teach them valuable life skills, but it will also be fun (messy!), interactive, and you will get your own homegrown, organic produce by the end of it.
Gardening with young children can at times be slightly challenging, however, with a little bit of research, you can get into it right away. I've been wanting to take the plunge to get my children outdoors and learning about nature and produce for a while now and I've decided that Spring is here and it's the right time of year and the right time to start teaching my children.
I recommend starting with some easy garden plants, that I found on this site here, to get started. These are the types of flowers and veggies that I am starting with my kids so we can enjoy the whole process from seeds to eating our own veggies or seeing our own beautiful flowers grow.
Exciting times ahead!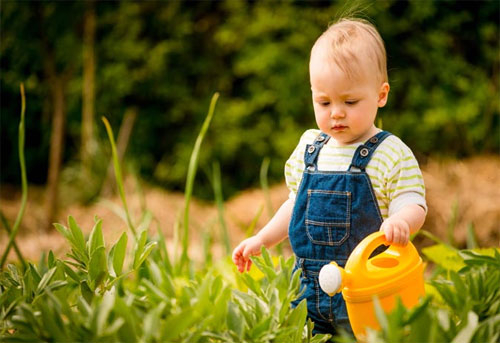 You can also buy them their own set of gardening tools, so they feel like they are actually growing the plants themselves.
Like I said, it's not only a great way to get your children outdoors, but it's great because you will have homegrown, organic produce by the end of it too! I even came across this idea from workingdaddy.co.uk, about starting a Fairy Garden – what a fantastic idea! I've never even heard of it before and it seems like such a cute little idea to get your children involved in their very own magical fairy garden.
This is something I definitely want to get into, so they can enjoy it and feel so special about having their own fairy garden in our backyard.
Pretending
At this age your toddler's imagination is starting to develop and it is important to keep it growing. If they don't have a toy telephone, give them an old cellphone and pretend you are phoning each other. Have a conversation with them over the phone.
You won't always understand the story they are telling you..
But just nod your head and say "YES".
You will soon discover that they are imitating you so be careful what you say and do in front of them.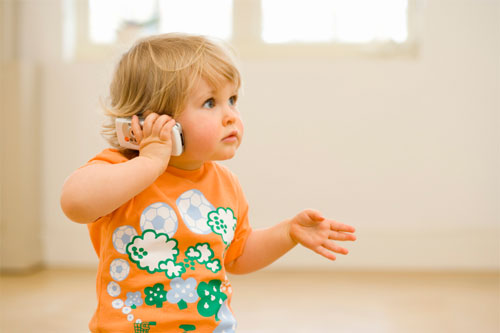 Taking Your Toddler to the Park
Remember to take them to the park every now and then. They won't necessary play with other kids, but they will observe and learn, and you never know, they might just have an outgoing personality and go play with other children, this is especially important if you have a shy child.
Remember, getting children outdoors is extremely important. The fresh air, different smells and feel of nature is like nothing a toy can give your child.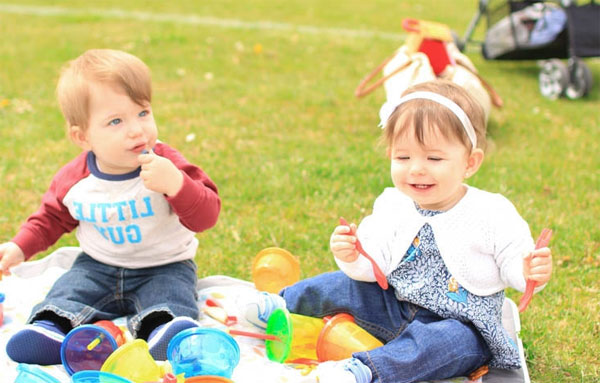 I've also noticed a trend lately of parents opting for a 'no present' policy, in-particular banning toys as presents, really made a whole lot of sense. That's why, most of the activities you'll see we have included today on our blog post about playing with your toddler aged 18-24 months, is about devoting your time to their learning and development, with very little toys involved.
What childhood and being a parent really comes down to, is not providing the best toys or presents for your children, but rather, time and attention which are things toys and money can never buy.
So donate more stuff, de-clutter and provide your children with 'you time' – get outdoors and explore together.
PomPom Counting
This is a great activity to get them started as early as possible. I wish I could say that I thought of this one, but I actually have to give credit to Nicola and her awesome parenting & lifestyle blog called nicolajogston.com. We got this idea from her PomPom Counting blog post which you can read for yourself where she explains this is a great exercise for at home learning and development activities to do with your child. Thank you Nicola for this great idea!
We highly recommend it for your toddlers aged 18-24 months and all you need to buy is pompoms and some cupcake cases and your ready to start assisting your child count pompoms.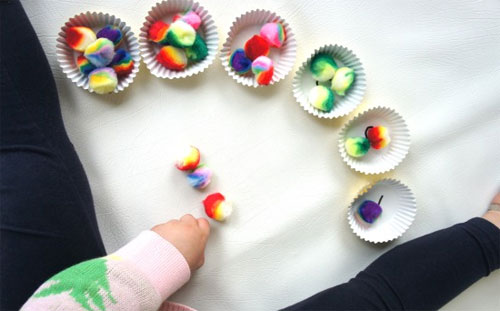 Roll the Ball
Both sit on the floor, legs spread open and roll a ball to each other. Make it fun, cheer them on if they catch the ball.
Other Toddler Play Activities
As I mentioned above, you'll notice that all of these toddler play activities involve no or very little kids toys. We have discussed this many times on our blog before on the importance of interacting with your children as a parent, spending quality time with them, without TV, without toys, without gadgets and without distractions. To do this, you can read our blog here on how to get your kids away from playing with gadget and watching TV.
Simple play gets children's imaginations going and I can't recommend better ways for your children to naturally develop.
I also saw this great idea from another Mom blogger, about scheduling 'Imagination Days' with your children. This involves no TV, no gadgets, no normal toys, but rather imaginative play with out of the box utensils you can find around the house including cardboard, paper, boxes and kitchen spoons etc.
Sponge It!
Your toddler wants to feel like a helpful member of the family, so when dad is busy outside cutting the lawn or mom is busy with washing, give your toddler a small bucket of water and sponge and ask him to wash his bicycle.
Note : always keep an eye on your children when playing with water.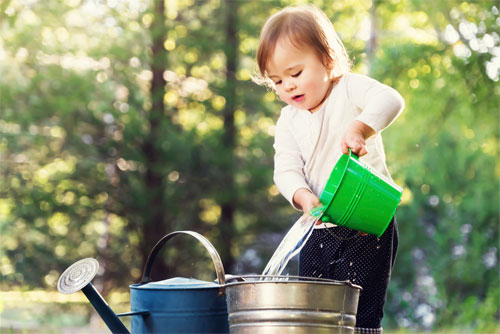 There is plenty more outdoor activities you can do that don't just involve a bucket and a sponge. For more outdoor kids activities, check out Brittany's blog post on her site dirtnoisejoys.com about activities and fun for kids. She has some really awesome ideas that you can integrate children of any age in. She has many extensive ideas that you can start young with your 18 month old, and as they grow, they will enjoy these activities even more!
Freeze!
Who doesn't like dancing? Not me – I absolutely LOVE to dance and what makes it even better is that  you can enjoy it with your toddler. Let them choose a song (feeling independent) and let them dance.
Then when the music ends, they must freeze!
This game is full of laughter and soon you will be joining them and totally forgets to stop the music. LOL. This activity is great for toddlers to learn listening skills.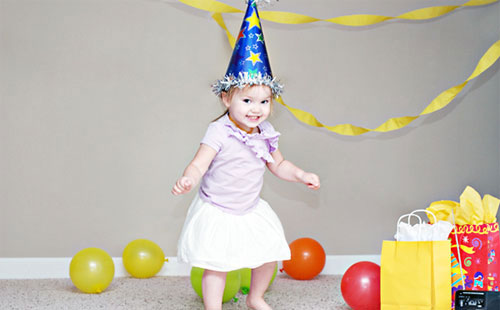 Before bedtime, switch of the bedroom light and use a flashlight to create shapes with your hands and fingers. Children love this. You can create a bunny or just keep it simple and wave to them. Also let them try and see how creative they can be.
Name It!
Name It! Is a very important activity and you have to encourage your toddler to play along. When bathing, changing their diaper or just chilling with your baby, point to an object and ask them what it is -"What is this?" "this is your foot" and name a few other objects (knee, toes, nose, eyes, ears, etc.).
They will soon impress you and give you the answer before you can even ask them what it is.
Your toddler is only about 18 months old, and their primary mode of playing is rolling a ball, hiding and wanting you to catch them.  Through play they will explore the world of visual, sound and movement. Other wonderful activities your toddler must do is building blocks and playing with shapes.
It is very important for you as a parent to be a part of your toddler's life during this time as they will form a bond with you and learn that you are their best play mate and know that you will always be there for them.